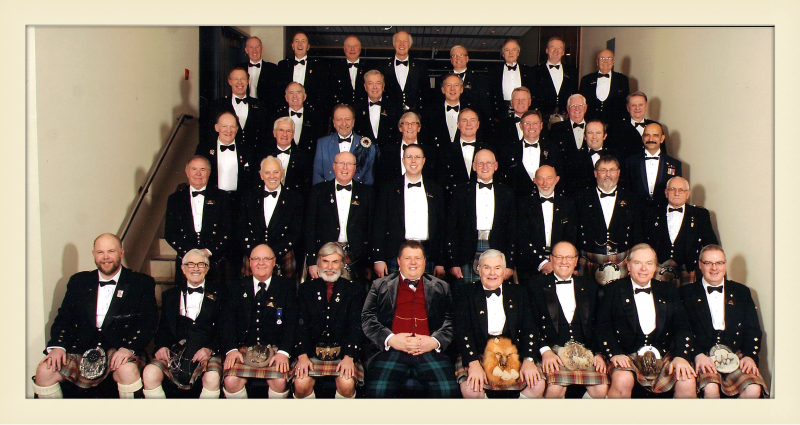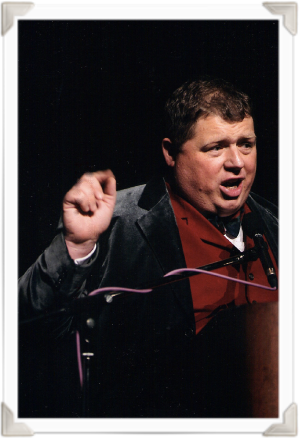 Well I wasn't disappointed! What a tremendous supper. I can't say I've ever addressed a larger crowd at a supper – not properly anyway. I once Addressed the Haggis – at Alexandra Palace, I think it was – before an immense crowd. And then of course there was the Tattoo, performing excerpts from Tam before 9,000 every night. But really these are nothing in comparison to making the Keynote before the eagerly anticipant faces of approaching 900 diners.
As ever, my nerves were more tattered by fear of my technology falling down than anything else. Being mightily impressed (who isn't?) with Professor David Purdie's 'Illustrated Immortal Memories' I like to use images to bring Burns' story to life, but in a convention centre this presents new challenges heretofore unfaced.
I use Apple's propriety presentation software Keynote in preference to Powerpoint, mainly because one can do nifty zooms, not possible with the latter, but also because I can use my iPhone as a remote; kinda neat. In order to pull off this feat, however, the two devices have to be tethered in a network, but with the purchase of an Airport Express, it's possible to set up an ad hoc network which deals with all this. I tested my apparatus thoroughly in the empty congress centre, but you're always concerned that when the place fills up you're increasingly at home to Mr Cock-up.
Well the supper moved along in full swing. Having arranged my fair share of suppers over the years, I can only imagine the logistic problems that must be surmounted in trying to corral so many ornery critters into a room. The club's ranching credentials are clear, because the supper ran according to time to the very minute – remarkable!
The programme was exceptionally entertaining and a true celebration of Scottishness, such as we never see in Scotland itself. The club has a tradition of introducing 'The Removes': club members – on this occasion Bruce Gordon and past-president Derek Larg – introduce each course with some light humour. It's a marvellous way of breaking up the evening, but I must say, the staff were so efficient it wasn't even necessary to fill time.
The club's choir sung a good selection of tunes, not all of them Burns, but without doubt delivered with tremendous verve and gusto. The Calgary Police Service Pipes and Drums were tremendous, and their accompanying dancers simply breathtaking with a hugely varied and entertaining dance programme, including flings, hornpipes, swords and contemporary highland routines: marvellous!
The Haggis was addressed with aplomb by club stalwart and past president Bob Ferrier and recitations of two Burns songs as poetry by Jim Osborne, Willie Wastle and somewhat more unusually Mary Morrison were treat with outstanding pathos and sympathy.
Eventually, after a break to louse a button, it was my opportunity. I was impressed by the commendable attention within the room. I like to begin my Immortal Memory with a rendition of There was aLad, if it hasn't already been sung, as it is in itself a wonderful precis of Burns life. I was delighted when the company joined enthusiastically with the chorus, but after just a brief minute, gremlins began to surface with the technology. My 'Keynote Remote' app is supposed to show me the slide currently on the screen, but this facility decided to hang. Not so much of a problem, because I could see one of the two massive screens quite easily, however one can half thumb the slide, usually, to remind yourself what the next slide will be, and this was impossible: grrrrr!
Then after about 25 minutes, disaster struck! The network failed entirely! I tried desperately to marshall my thoughts for my contingency options and I'm told that had I not alerted the assembly to my predicament, they wouldn't have known anything was amiss, but I couldn't help but feel disappointed that it hadn't gone as smoothly as I hoped. Nonetheless I was gratified later at the 'James Joyce' with the excellent reaction I received.
The evening was a tremendous success, rounded off by a wonderful programme from the Calgary Fiddlers, including a highly talented step-dancer, an extremely funny Toast to the Lassies by club member Gordon McCullough and a touching Toast to Absent Friends by my excellent friend and immediate past president of the club, Jim Hutchens.
Calgary
Friday, 21 January 2011