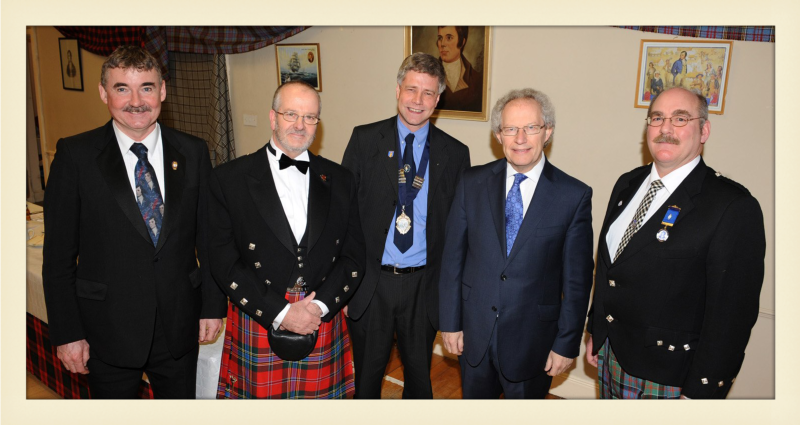 My feet have scarcely touched the ground since I returned to Blighty. On Wednesday, for the second year running, I had the tremendous pleasure to join with the staff and residents at The Elms, a residential care facility in the hands of the Church of Scotland, with special attention given to sufferers of Alzheimer's, for a Burns Lunch in the area of the Grange. It was terrific to meet up with my old pal Marty Huxter, who piped in the Haggis. Unfortunately it was quite a small room and the pipes were very loud for the residents. Even more unfortunately, for Marty, they werena' slow in showing their displeasure!
Thursday night was a tremendous occasion: The Edinburgh Burns Club's annual supper at the Royal Burgess Golfing Society in Barnton. Proposing the Immortal Memory was James Naughtie, well-known broadcaster and co-anchor of Radio 4's Today programme. There were additional toasts & replies from Dana Linnet, the US Consul; Bailie Jenny Dawe, leader of the Edinburgh City Council; Professor David Purdie; and Jane Brown, manageress at The Globe Inn, Dumfries. Songs were performed by Moira and Douglas Burke, wonderfully accompanied by Walter Nimmo. I humbly offered the Address to the Haggis, Lines on Dining with Lord Daer and Death & Dr Hornbook. The company at table was wonderful. Bill Hill, Stevie Small, Craig Hallat and Luisa Sello; what a marvellous night.
Then Saturday, after picking my kids up from their various play dates and parties and depositing them with my so-understanding, darling wife (surely worth brownie points ;o) I hied forth to Cardenden in the Kingdom of Fife for perhaps the most extensive Burns Supper in the World, that offered by The Bowhill Peoples' Burns Club. It gives me perverse pleasure to belong to perhaps the most Conservative and the most Socialist Burns Clubs on the East Coast of Scotland simultaneously. I was somewhat apprehensive in delivering the Toast to the Lassies, since I'd kicked a bit of an own goal in 2009 with a rather too scholarly Immortal Memory at Bowhill, but I was confident that I'd pitched this one correctly and the rapt attention and sustained acclaim I received informed me that all was forgiven.