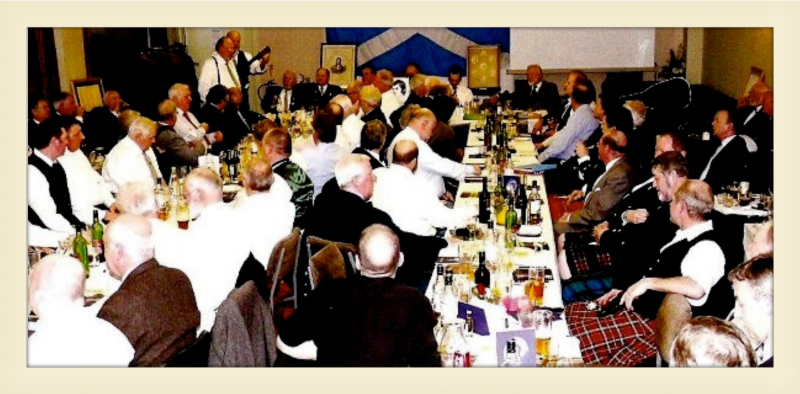 February appears to be the new January. I have a total of seven Burns engagements over the course of the month and just a few of those left to fulfil. It's been a long time since I last attended a Black Watch Burns Supper and I'd forgotten all the wee nuances that make them unique. It's great to receive undivided attention when addressing a supper, obviously, but the reverent hush received at a Black Watch Supper is almost eery; even when one expects a reaction, it's withheld. Marvellous night, though, in the company of some old friends – who can ask for more?
The drive down the A702 to Ellisland is one I'm really getting to know and enjoy, though I had a new experience waiting for me as I dined with the Can-Du Burns Club in Jean's own kitchen. Wonderful, convivial evening in the company of some worthy and well-qualified speakers.
It's always wonderful to see Willie Horne's 'honest, sonsie, baws'nt face'; likewise Kenny and Bobby Ross, so I was looking forward to an excellent supper as I arrived at Lodge Trafalgar's premises the following Saturday for Lodge Robert Burns Initiated's annual soiree. I started proceedings, accompanied by that most talented pianist John Burgess, with a rendition of There Was a Lad. For a change, I sang it to the accustomed melody, O an' Ye were Dead, Gudeman, rather than Burns' choice Danty Davy. Willie and I hooked up on the spot to perform Death and Dr Hornbook and later the crowd gave my Tam o Shanter the most excellent attention.
Having already attended the most avowedly Conservative and Socialist suppers in the east of Scotland, it would have been remiss of me to fail to attend a Nationalist supper and that box was ticked at Balerno last night. A fabulous night with some very talented performers. There's no shortage of music at Balerno – it truly sets them apart geographically – and I'm more determined than ever to aspire to attend the Let it Blaw supper sometime very soon.