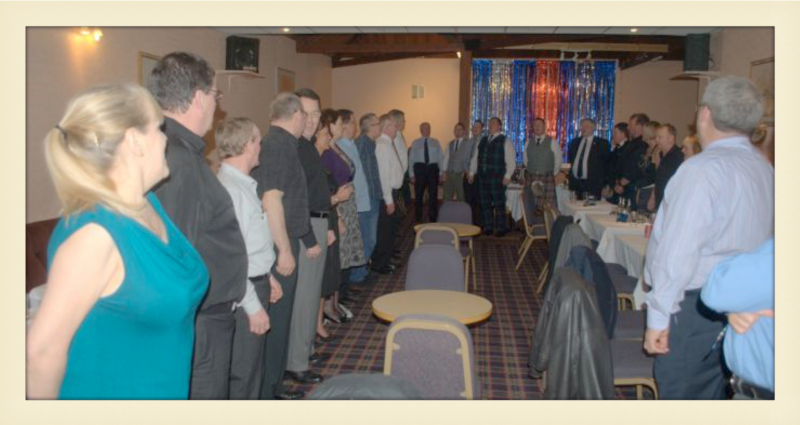 February 25th: a date which means, well, next to nothing to Burnsians. A celebration of the Bard's one month festival? I suppose it was Bonnie Jean's birthday. Och, well. Who needs an excuse for another Burns Supper? The Band of the Royal Regiment of Scotland decided to go well out of season and secured a date at The Royal Scots Club on Abercrombie Place. To be fair, the night is more of a gang show than a supper, but tremendously entertaining. I was delighted when David Purdie dropped in unannounced on his way back from dining in The New Club and was prevailed on to draw up a chair and join the evening's proceedings. My Immortal Memory was very well received, and although very late in the proceedings, Norman Waters' Tam the Bunnet was greatly acclaimed.
I was very pleased to be asked by Jim Shields, Secretary of the Edinburgh District Burns Clubs Association, to judge the verse competition for the Schools on the morning of the 26th. I must say, it never ceases to amaze me the standards these kids can reach. Many of them (and we're talking Primary Schoolkids here) were of a standard every bit as good as some perennial speakers on the circuit. In fact the winner's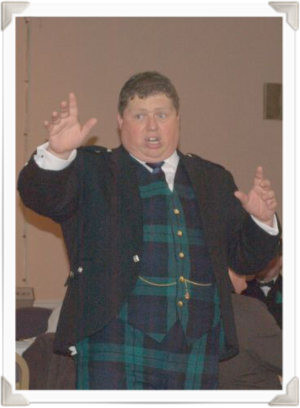 rendition of To A Louse was of such a standard that she brought new nuances to the poem even for me. Her mum was thrilled afterwards when I remarked I'd only heard one better rendition, and that was mine!
Forward to March 5th and the Inveresk Bowling Club in Musselburgh. Kenny Ross had booked me for this supper and I'm awfu' glad he did. I addressed the haggis, gave the Immortal Memory and performed There Was A Lad as well as taking part with Billy Horne in Death & Dr Hornbook and performing Tam o' Shanter. Playing for new crowds is always very satisfying, and when you can share such wonderful evenings with great friends – 'a bottle and an honest friend! What wad ye wish for mair, man?'
The drive to and from Paisley is a tedious bore, so I was delighted that Bill Hill joined me in my jaunt through to Lodge Paisley St Mirrins for the Senior Members' Night last night. I thought I might try to have an evening completely void of Burns for a change and presented a plethora of songs, and recitations of The Kirk Douglas Ghoulie, The Deluge and Tam the Bunnet. Bill presented his own To a Mealie Pudding Supper and Ode to the Burns Supper, but 'ere we were permitted to leave Tam o' Shanter was demanded of me. Who was I to deny them?